Everyone loves a great shopping center. From good eats to fun deals and shopping at new places, a good group of shops and restaurants can provide a whole day's worth of enjoyment.
In Orange Beach, Alabama, one of the best places to — and eat! — is the Big Fish Shopping Center off Canal Road.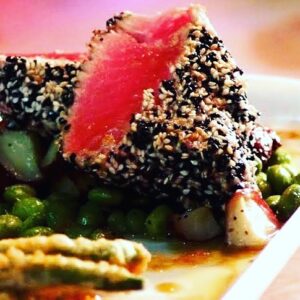 The star of the show is, of course, Big Fish Restaurant. A true favorite with locals, Big Fish is perfect for a family meal or impressing a date. Offering everything from steak to some of the best sushi on the Gulf Coast, Big Fish is the first name many area residents will mention if asked to recommend a restaurant. The atmosphere inside is upscale casual, with the kind of elegant ambiance that makes you want to dress up a little without making you feel out of place. The Big Fish Restaurant menu selections are incredible, with fresh, succulent seafood sharing space with specialties like the outstanding Beef Tataki Appetizer and Flash-Fried Lobster Tail. Eat outside and enjoy the fresh Gulf breezes, or dine inside for an intimate meal in the lovely, well-appointed dining room.
Headed to a big date at Big Fish? Stop in at Reflexions Hair Salon first and look your best. Reflexions keeps up-to-date on the latest generation of techniques, styles and trends, and the salon's loyal customers rave about how good they feel about themselves after a visit. The best part? It's right down the way from the restaurant!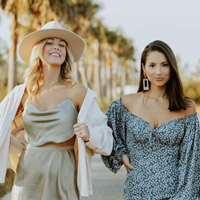 After your hair appointment, stop by Pieces Boutique and pick up something amazing and confidence-boosting to wear! From sassy hats to rompers, dresses, sweaters and even swimsuits, Pieces has everything you need. This fashion-forward, style-conscious shop won't let you down when it comes to being on-trend and beautiful.
Maybe you're hoping to give sparkling gift (or a ring?) to a special someone over dinner. Swing by Frank & Co. Fine Jewelry, where Master Jeweler Frank Trainor offers the incredible "Designed By You" custom jewelry experience. Frank & Co. also repairs fine watches, restores jewelry pieces and backs all of their work with a 100% Quality Craftsmanship Guarantee.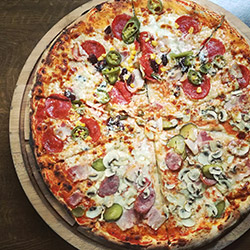 If you're looking to eat something fast, on days when there's no time for a sit-down dinner, stop by Domino's Pizza (you know a slice sounds amazing right now!) or get something freshly prepared just the way you like it at Subway. Again, they're all right there, waiting for you!
Last but not least, if you still don't believe that the Big Fish Shopping Center has everything you could ever hope to find and more, visit the law office of Brenton C. McWilliams. Specializing in wills and estate planning, as well as real estate and property law, Mr. McWilliams also practices probate and estate planning, elder law, personal injury and accident law, business and corporate law and criminal defense. A highly respected member of the community, Mr. McWilliams is admitted to practice law before all courts in the State of Alabama.
So there you have it — Big Fish Shopping Center is truly the go-to place when you want something cute to wear, something amazing to eat and even the best haircut of your life! We'll see you there, and don't forget to check out our Big Fish Restaurant coupons!