Looking for everything from amazing shopping and delicious dining to elegant Orange Beach event space? Cosmo's Courtyard has got you covered! You'll find a whole day's worth of enjoyment when you visit.
Cosmo's Restaurant & Bar is the neighborhood favorite for locals and guests alike in Orange Beach, and one of the best restaurants on the Alabama Gulf Coast. The restaurant's open-air deck makes a wonderful place to get some lunch and enjoy the best Happy Hour on the island served daily from 3 to 5 p.m. (in season).  For dinner, try the Chicken Roulade, Crab Cakes, a hand-cut steak or their Firecracker Shrimp, a local favorite that made them famous. There is truly something for everyone. Afterwards, step across the deck to Maggie's Bottle & 'Tail.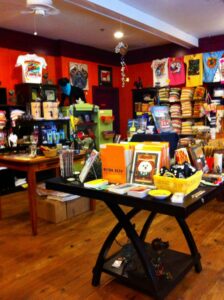 Across the deck from Cosmo's Restaurant & Bar you will find Maggie's Bottle & Tail, a quaint and unique shop featuring jewelry and artwork from local artists. Maggie's features merchandise for both Cosmo's and dog lovers alike on items such as hats, shirts and koozies. In addition, they offer an extensive selection of wine and beer allowing patrons to build their own six-pack from a wide assortment of craft beer, while wine lovers will enjoy the incredible bargains on many high quality labels seldom found in other venues.
Hidden in Maggie's Bottle & Tail is the endearing Maggie's Parlor providing a nostalgic charm to enhance your tasting experience. Let the Maggie's staff guide you to the perfect pairing. After, be sure to stay a while in Maggie's Bottle & Tail, and find something unique to take home. Year after year guests return to Maggie's to get that special wine or beer that they just can't find at home. It has been a tradition for many wine and beer enthusiasts. Ask for a curated tour of the red and white wine rooms, fill a growler or crowler from our tasty draft beer selection or build you own six-pack from the hundreds of beers available as singles. Maggie's Parlor offers monthly pairing and dinner events, as well as, availability for private events. Sorry, no one under 21.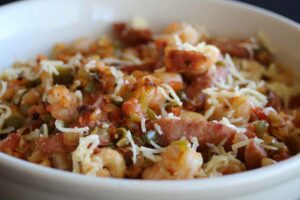 Next door, fresh seafood meets soulful, Southern goodness at Luna's Eat & Drink. Guests can experience coastal fare and home town favorites. Luna's also offers 32 craft beers on tap and large screen TVs, perfect for relaxing and watching your favorite sporting events. In addition, enjoy their grassy lawn area for playing outdoor games and daily Happy Hour served from 3 p.m. to 5 p.m. (in season). Try their Meat & Three Lunch Special featuring Nashville Hot Chicken and Braised Greens among other southern favorites.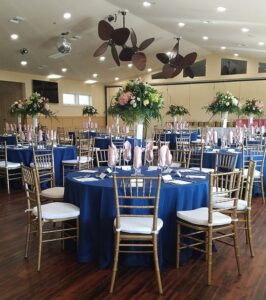 Hosting an event? Magnolia Hall is located next door to Luna's Eat & Drink with more than 4,000 square feet of event space and a semi-private patio. The entire space can accommodate up to 225 guests seated and 300 guests standing with a mix-and- mingle set-up. Large windows overlook the Courtyard in front of Magnolia Hall and several sets of doors allow use of the patio and outdoor space. Inside is a stage located in the back of the room which can be adjusted to fit your needs. Also available for use are four flat screen TVs, a microphone and podium.
To round out your visit, be sure to stop by Buzzcatz Coffee & Sweets. From simple breakfast fare and home-made pastries, to ice cream and delectable delights, you won't be disappointed. Guests will enjoy locally roasted coffee, breakfast, baked goods and made from scratch goodies all sure to satisfy even the most discriminating. Weekly breakfast specials are available daily from 7 a.m. to 11 a.m. and lite lunch options are also offer. According to Yelp reviews, BuzzCatz Coffee & Sweets serves the best breakfast in Alabama. PEOPLE Magazine worked with Yelp editors to identify their online reviews that focus on breakfast. Those restaurants were ranked based on a variety of factors for their Best Breakfast in Every State. The fan favorite at BuzzCatz is their cinnamon rolls. You can get them three ways: drizzled with glazed icing, slathered with cream cheese icing, decorated with a dose of pecan praline. In addition, Sunday is Cinnamon Roll Sunday at BuzzCatz where guests can upgrade their breakfast sandwich with a housemade cinnamon roll. Of course, if you can't wait until Sunday, these are available daily.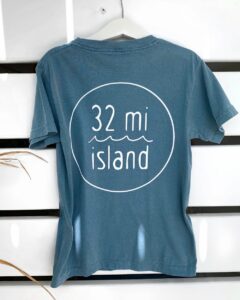 Swinging by for a quick and cute souvenir? Then TIKI Boutique is the place you've been looking for. Shop their "32 Mi Island" collection for truly unique and locally focused Orange Beach and Gulf Shores souvenirs. The collection includes a variety of stylish and appealing apparel for men and women that "celebrates our 32-mile coastline!" And Tiki Boutique also offers a gorgeous selection of other items, from dresses to sweaters and jumpsuits. Find something for the young and the young-at-heart that will always make them feel like they're at the beach.
Cosmo's Courtyard is the place go when you want to make your afternoon into more than just a meal (even if that meal is as spectacular as the food at Cosmo's Restaurant & Bar or Luna's Eat & Drink!) Bring your family or just take some time to yourself and enjoy the shopping, flavors and convenience.