The Gulf Shores and Orange Beach area works hard to foster an image of family-friendliness, and the communities on the Alabama Gulf Coast have done a wonderful job of earning that designation.
One of the many ways they've been able to do that is through the support of local businesses that go out of their way to welcome families.
Among the shining examples of comfortable and convenient eateries, arcades and events in the area, GTs on the Bay stands out as a place that children and adults can both truly enjoy.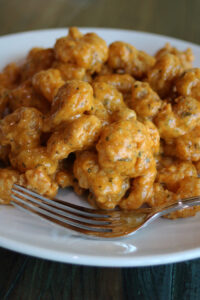 "They have yummy food, and you can see the water while you eat!" said one local 9-year-old food and restaurant critic. "The big fish tank in GTs is full of sea creatures, and it's fun to look and see what's new."
In addition to the all-important giant aquatic habitat, GTsalso has an outdoor playground with adjacent dining for the grown-ups, and its menu offers something for everyone.
"My favorite thing to eat at GTs is the Firecracker Shrimp, because it's full of goodness," said our critic. "It tastes so awesome!"
Adults may want to try GTs' excellent Shrimp and Grits, which is one of the best versions of the dish in the state, or their famous Cajun empandas, made with Louisiana crawfish, Conecuh sausage and tasso ham cooked with sweet peppers and creole spices, then wrapped in dough and deep fried. And don't forget the housemade remoulade!
And, like many other restaurants in the area, GTs sets aside time for a more grown-up atmosphere later in the afternoons and evenings, with live music some nights and a Happy Hour with specials on draft beer, house wines and appetizers (including those fantastic Firecracker Shrimp).
Whether you're going out with a crowd of all ages or stopping in as part of a date night, GTs in an excellent choice for dinner or an evening on the town.
Check out the menu here.