When you're on vacation, you want to do fun, exciting, and memorable activities. In Orange Beach, AL, there are dozens of incredibly fun things you can do. Because the area attracts many tourists for its beautiful ocean and sandy beaches, many people have decided to open fun businesses for people to enjoy. Below, you will find some popular activities to enjoy, in Orange Beach and the surrounding area. Also, all activities listed below are fun for adults and children alike.
What to Do in Orange Beach, AL
Clearly, the most frequented place to be in Orange Beach is… the beach! Orange Beach, AL is home to some beautiful waterfront hotels and restaurants, as well as ocean-related activities. However, if you are staying for a longer period of time, you will want to do some other activities! The area has a lot to offer, so don't be afraid of taking a day to spend away from the beach. Here are some other ideas for activities you can do while on vacation.
Dolphin Cruises
The Gulf of Mexico is home to nine different types of dolphins, which make them very present in Orange Beach, AL. Seeing dolphins jump through the wave is a beautiful sight that you can't see in most areas of the United States. Luckily, there are many dolphin cruises you can take while you are on vacation in Orange Beach. Most tours in the area last between 90 minutes and two hours, depending on which company you book with. The company will take you to areas where dolphins frequent so you can see them in the wild. Seeing the dolphins, adults and babies, is truly a magical experience that everyone loves.
Visit Gulf State Park
Many tourists don't know that Orange Beach is a neighbor to the beautiful Gulf State Park. This park is mostly in Gulf Shores, but it does overlap into Orange Beach. You can go for a hike through the beautiful oak trees, or you can book a cabin to stay the night. They also have Lake Shelby inside of the park, where the offer kayaking and canoeing. South Alabama is one of the few places where you can enjoy the beach, then drive a few miles and visit a state park. If you love the great outdoors, Gulf State Park will be a great place to spend your vacation time.
Try Out Great Restaurants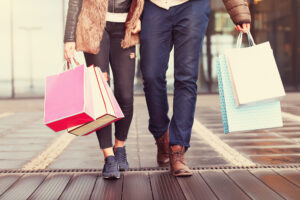 Did you know Orange Beach is home to many fantastic restaurants in the area? There are many great seafood, BBQ,  Cajun, and Italian restaurants in the area that both locals and tourists adore. Additionally, many of these restaurants are waterfront, so you will get to enjoy a beautiful view while enjoying your meal. For a list of some of the best restaurants in Orange Beach, AL, we have an entire blog post that outlines these great food options.
Go Shopping
Orange Beach has some fantastic local stores where you can pick up items that remind you of your trip. One of the best places to go shopping at the The Wharf, which has dozens of stores, restaurants, and activities. At night, The Wharf is stunning with its sparkling lights strung across trees, a ferris wheel, and buildings. You will want to spend a few hours shopping here, so make sure you have enough time to get to all of the stores you are wanting to visit.
Visit an Alligator Farm
When you are visiting Gulf Shores, you will likely see many different alligator-related things. Whether this be logos for restaurants or business, alligator bites on menus, and more. So, what is a better way to spend an afternoon than going to an alligator farm? There is a fantastic place called Alligator Alley that many locals and tourists go to get up close and personal with dozens of gators! The alligators at the farm are used to humans and understand they are not a threat. In fact, the farm has a policy where aggressive alligators get removed, so you have nothing to worry about. Here, you can hold the alligators, feed them, and walk around near them. This experience is truly unique to the area, so you will want to take the drive to partake in it.
Go Snorkeling or Scuba Diving
Snorkeling and scuba diving are fantastic ways to take a look at what goes on under water. When you are just swimming, you don't realize the little world that goes on below. You get to see beautiful fish of all types, different corals, seashells, and sand dollars. There are many different companies in the area who take customers on boat rides to great snorkeling spots. When you are looking for things to do in Orange Beach, AL, we highly recommend you go on a snorkeling or scuba diving trip.
Go Ziplining
Ziplining is an exciting and adrenaline pumping activity that many people love to do. Thankfully, Orange Beach has a great zip lining attraction right by Portage Creek. The Hummingbird Zipline Course has eight ziplines that anyone over the age of 10 can use! Hen you go, you will have guides take you across each zipline, which can take you through the beautiful trees at up to 30 miles per hour! If you love adventure and are not afraid of heights, visiting the Hummingbird Zipline Course is a fantastic way to have some fun in Orange Beach.
Fun Things to Do in Orange Beach, AL
Relaxing on the beach is not the only thing to do in Orange Beach, AL! There are several activities and experiences you and your whole family can partake in. In this town, you are sure to have a fun and busy day trying new things. This is what makes vacationing in Orange Beach so fun! Enjoy trying out the activities above!