One of the best things about travelling to a new area is seeing what the food options are. Most towns that attract a lot of tourism tend to have amazing local restaurants. Orange Beach, Alabama is no exception to this trend. However, if you have never been to this area before, it can be a challenge to know where to go. Look no further, because we have put together a list of some of the best restaurants in Orange Beach, Alabama.
A Few of the Best Restaurants in Orange Beach, Alabama
Below are just a few of the best restaurants in Orange Beach, Alabama that both locals and tourists love. There are so many great and highly-rated places in the area, that we just can't list them all! The truth is, just about every local restaurant within a few miles of the beach has options for everyone. With that being said, just because a restaurant is not on this list, it doesn't mean you shouldn't try it out.
The Gulf – Orange Beach
The Gulf's Orange Beach location is just off of the beach, and it overlooks the beautiful water while you eat. They primarily have seafood options, but if you are not a fan of seafood, they also have chicken options and beef burgers available. Their menu changes every two weeks to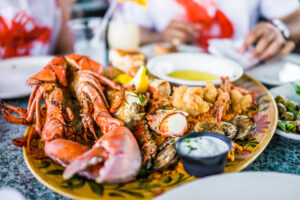 ensure they have high quality ingredients and seafood options. The Gulf does a great job of incorporating Orange Beach's fun and casual atmosphere. To order, you walk up to their window, and find a spot outside to eat. It is the perfect food option for when you aren't wanting to leave the beach, but still want to get some excellent food for lunch or dinner.
Cobalt
Cobalt is another seafood restaurant, but it has a much different atmosphere than The Gulf. When you eat at Cobalt, you can choose between eating inside or outside, and you have a waiter or waitress. It still feels very fun and beachy inside, as you can view the water from their large windows, but it is slightly less casual than The Gulf. Cobalt is a great place to go if you have been out shopping or walking around town and are looking for a good meal. They have a large menu with several options from seafood, to chicken, to pizza.
Brick & Spoon
A great place to have breakfast in Orange Beach is Brick & Spoon. This restaurant is so great that they were rated one of the top 10 breakfast places in the United States! They have coffee, pancakes, omelets, and even breakfast tacos. They also have lunch options like salads, burgers, and pasta dishes if you are looking for a place to take a break from all the seafood you will be eating. Unfortunately, they do not serve dinner, so you will need to go for breakfast or lunch while you are in Orange Beach, Alabama.
Villaggio Grille
Looking for a slightly more upscale dining experience while you are in town? One of the best restaurants in Orange Beach will give you just that! The Villaggio Grille is an Italian and seafood restaurant on Main Street in the heart of the Wharf, near many attractions and entertainment options. At the Villaggio Grille, you will be seated at a table covered with a white tablecloth and served food cooked by experienced chefs. They offer lunch and dinner where you can order oysters, pizza, and even a filet mignon.
Moe's Original BBQ
If you're looking for some great barbecue while visiting Orange Beach, Moe's is the place to go! As you may know, the South is known for its fantastic barbecue joints, so it is no surprise that Orange Beach, Alabama has a gem like Moe's. At this restaurant, they serve classic dishes like ribs, smoked sausage, and pulled pork. Since it is a beach town, they do serve some great seafood options like southern fried catfish and shrimp. They also have a great to-go menu where you can purchase one pound of pork, sausage, or turkey, and some side dishes, which is perfect for when you want to eat your meal on the beach. Moe's has some of the best reviews in Orange Beach, so you will need to try it when you are in town.
Fisher's at Orange Beach Marina
Known as one of the South's best restaurants by Southern Living Magazine, Fisher's is a great place to swing by. Fisher's has two seperate areas of their restaurant to cater towards every customer's needs. Fisher's Upstairs is an upscale and more formal restaurant where you will want to go for a nice meal one evening. On the other hand, Fisher's Dockside is a relaxed, less-expensive restaurant that overlooks a dock. When it comes to Fisher's, you will have a great time and amazing food no matter what the occasion is.
Best Restaurants in Orange Beach, Alabama
We hope you found our list informative and helpful when you are dining out in Orange Beach. As mentioned above, there are so many fabulous places in Orange Beach with amazing food, we did not have the room in one blog post to list them all. The ones mentioned above are known in the area for providing great food to pair with making memories on vacation. Do you have some restaurant suggestions we should include? Let us know in the comments section below!